Stylishly wrapped up in their linen robes, these two bestest friends have agreed to lift the curtain on their 24h staycation. From drinking wine in the steam shower to watching the sun rise from the rooftop pool, these two definitely know how to put on a Valentine's day show at The Curtain. ✨
---
Jess & Kam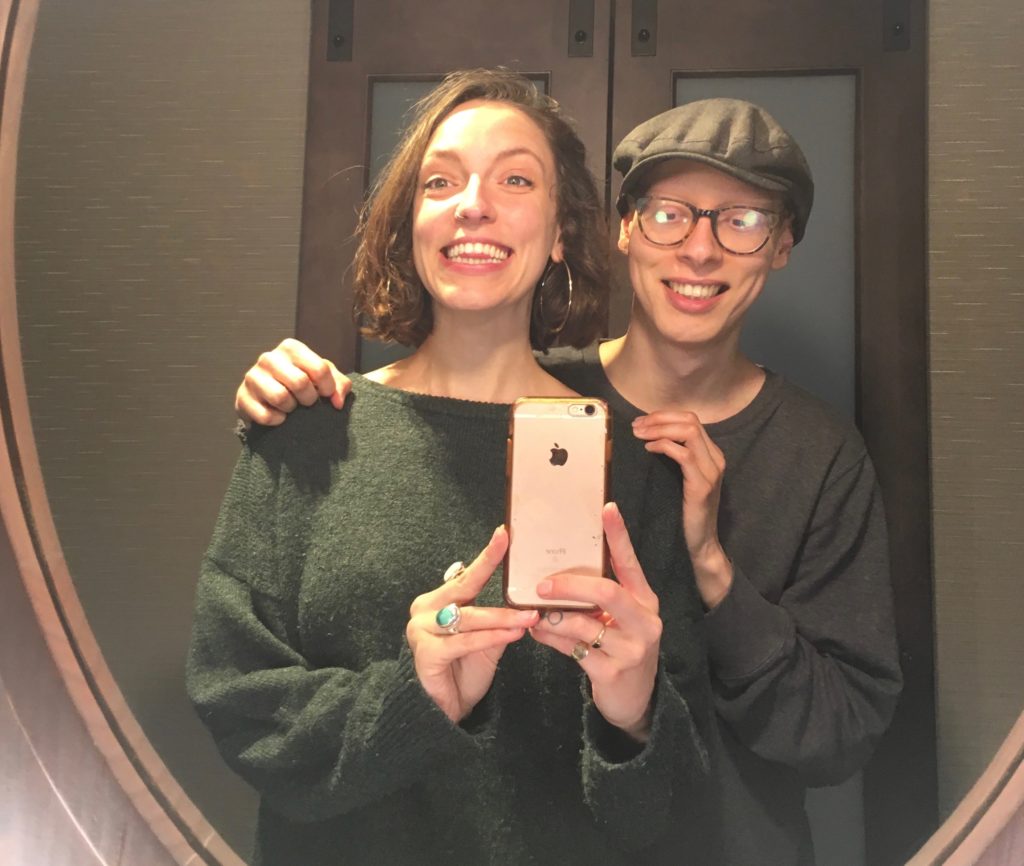 Describe yourselves in a few words for us
Kam: London-born and raised in Spain, I'm a Content Writer and book lover with a penchant for cooking soul food while listening to soul music.
Jess: I'm a 28 year old Head of Content with a passion for gardening, old school R&B, feminism, queer culture and brunching in the sun. ☀️
How long ago did you meet?
Kam: We met at the University of Warwick, about 10 years ago and we've been living together ever since (yep, it's a long time). We moved to London about 7 years ago and now live together in Tottenham.
What are your favourite things to do together to have a good time together in London?
Kam: Jess and I are pretty into the queer feminist & poc cabaret and club scene – think Pxssy Palace, Rubyyy Jones, Cocoa Butter Club, etc. We used to love going out for jerk chicken, but nowadays we're just busy being cliché Millenial veggie hipsters. 🍃
Jess: Yea let's be honest, we spend most of our time downing large flat whites at But First Coffee in Haringey, or melted into our couch with Netflix and gin.
Who decided to organise this Staycation?
Jess: I did, I thought we could do with some quality time together. We moved into our new place a few months ago and haven't had much time to reconnect with each other.
What was the occasion?
Kam: Valentine's day, we're professional singletons so we like to have a special time together on this day usually reserved for 'real' couples.
What did you pack for your Staycation at The Curtain hotel?
Kam: Swimming trunks, The Binding by Bridget Collins and my sunglasses – I was feeling hopeful despite it being mid-feb.
Jess: I brought the red swimsuit I reserve for special occasions, a toothbrush and a clean pair of pants. 🐬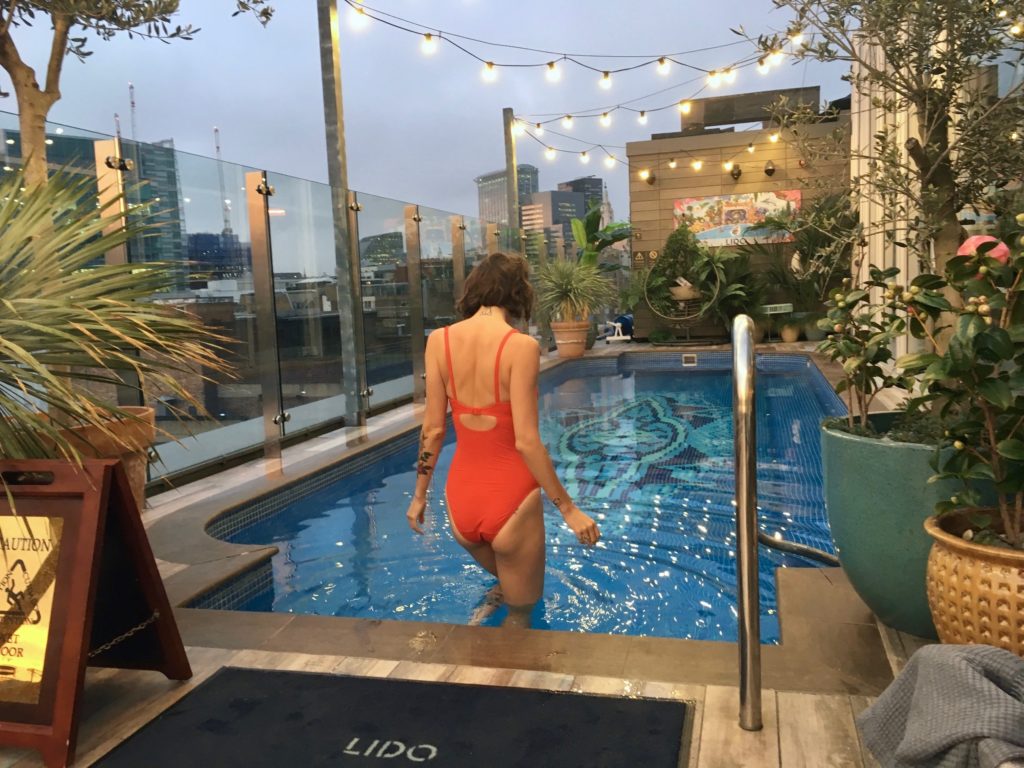 Describe how it feels to be on a Staycation and wake up in a hotel room in your city.
Kam: Lush. I could definitely get used to this.
Jess: Same. The bed was so comfortable, we slept like babies, and opening up the curtains to reveal the skyscrapers of Shoreditch was insane. We come to this part of town all the time, but there's something about waking up in the heart of the action, being able to walk to work, and being able to go out at night in Shoreditch without the faff of having to get home that's pretty fabulous.
What was the plan for your Staycation, from when you checked in to when you checked out?
Kam: The plan was simple: check-in, check out the hotel, go for wander around Shoreditch, grab a bite to eat and hit up the underground private members club for a cocktail. 🍹
Jess: Chilling with my best friend was a big part of my plan, but the pool and the steam room were definitely on my Staycation bucket list.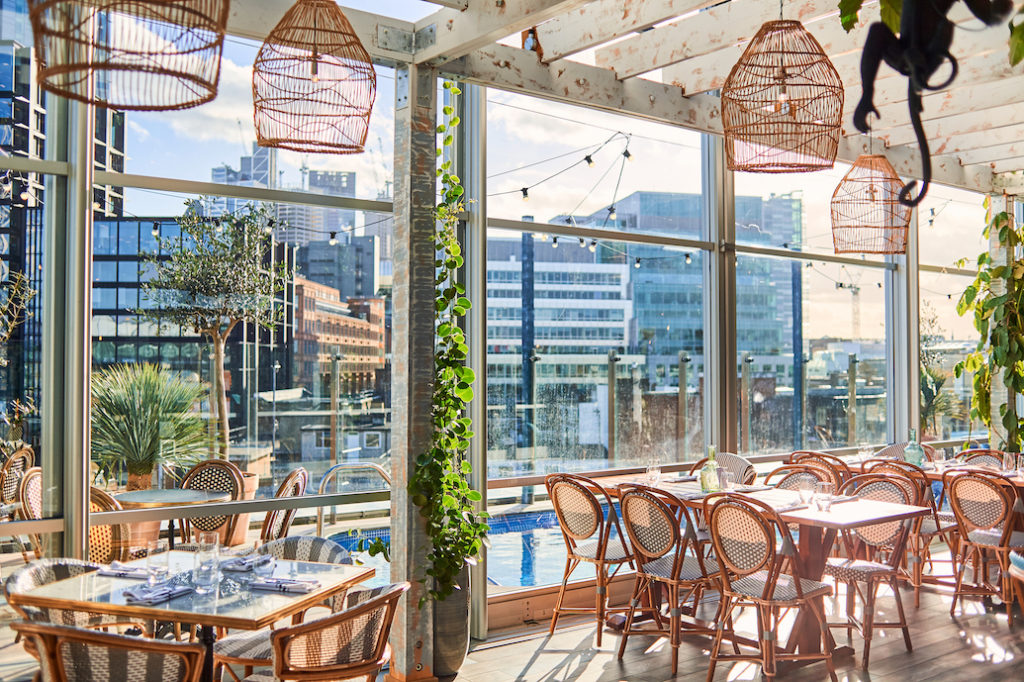 What was the best part of your Staycation experience?
Kam: We hit the heated outdoor rooftop pool at 7am, it was super cold but the pool was already lovely and warm. We sat in the pool watching the sun rise over Shoreditch before heading back down to our room for breakfast in bed before work. That felt seriously cool.
Jess: Yas, that was so good. So was the super cosy private cocktail bar downstairs, we had a grapefruit and Campari cocktail which was delicious. We were lucky enough to have a steam shower in our bathroom, so we ordered a bottle of red which we enjoyed together sitting in the steam – as you do. That was my favourite bit for sure.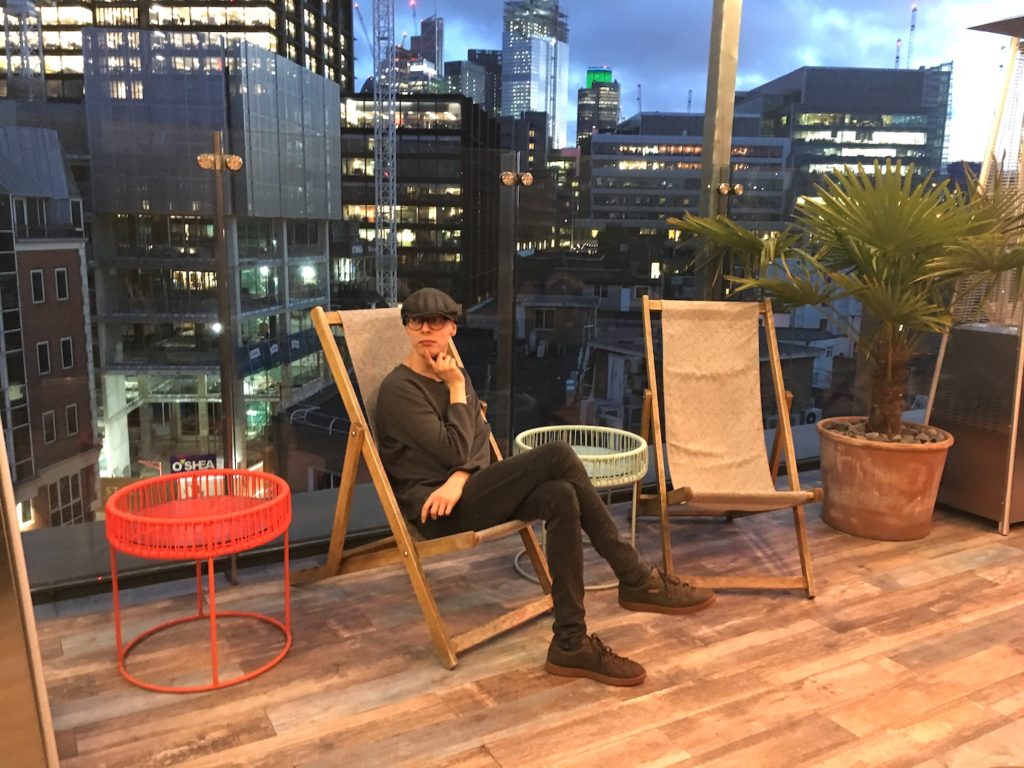 How was the Curtain hotel? Why should someone pick it?
Kam: All the nice little touches were great, from the Marshall speaker in the bedroom, to the kooky wardrobe that lights up when you open it and the gold cocktail mixing set you get in your room.
Jess: I think the rooftop pool was incredible, it felt so calm, quiet and soothing despite being bang in the middle of Shoreditch. I also really loved the decor, with plush green chesterfields, exposed-brick walls and sexy sleazy-chic artwork.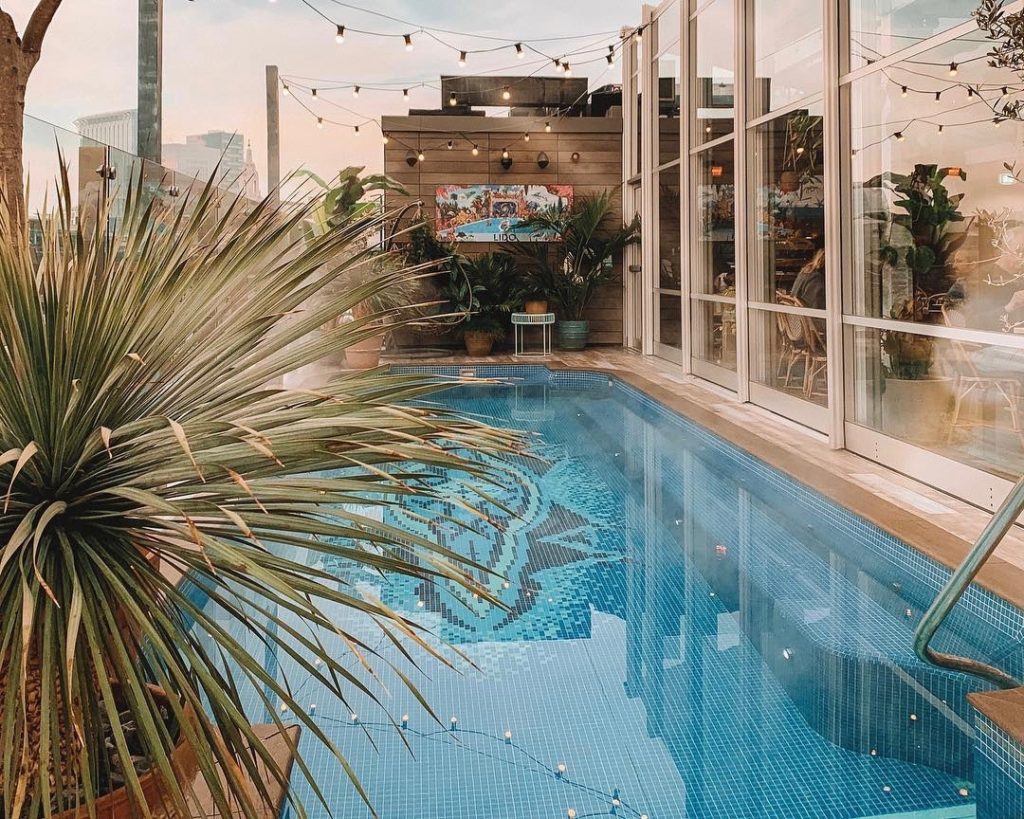 What's the first thing you said when you opened the door to your room
Kam: « OoooooooooO, this is niiiiice! » 😍
Jess: I said 'Omg this is insane' (with a cheeky swear word in the middle…)
What's the one thing you absolutely must do in the hotel?
Kam: It's the pool. And the sauna in the basement, that was divine
Jess: Breakfast in bed watching the news, it's my new favourite thing. 🥞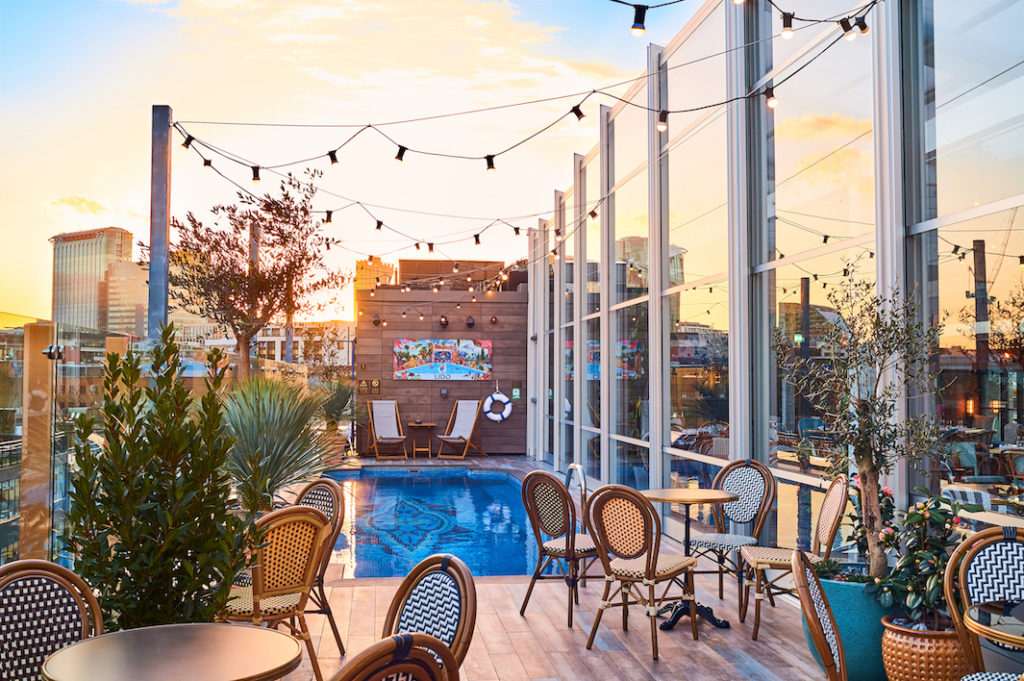 Any fun stuff to do around the Curtain in Shoreditch? A little gem you found which is really worth discovering?
Kam: Well, the street-art and small art galleries are always worth seeing, we saw an artists painting a graphic piece right by the hotel. Definitely felt like we were living our best Shoreditch life.
Jess: We grabbed a coffee at Lantana and went for a walk around Brick Lane Market before checking in. Later we were really naughty and treated ourselves to some oysters at Wright Brother's in Spitalfields (they have a happy hour deal between 3 and 9pm…) ☕️
Where did you have dinner?
Jess: Kam and I have a bit of a guilty pleasure – we really love the tofu ramen at Bone Daddies. It's probably not the best ramen in town, but we love it and we were near Old Street, so we thought it'd be rude not to.
Would you rather go for a walk around the neighbourhood, or stay in the hotel to make the most of the experience?
Kam: Honestly, we decided to start our holiday funday early on Sunday morning so we could have plenty of time to make the most of both: dip into the comfort of the hotel and head out to play in Shoreditch.
Jess: Yeah, I agree. I love the fact that you can really do both, it didn't feel like we had to choose since the location is so great.
Monday morning: would you rather breakfast in bed or from the buffet?
Kam: Breakfast in bed, all day.
Jess: For sure. I need coffee before I make my way into the world.
How was breakfast?
Kam: My avocado toast with poached eggs was yummy. 🍳
Jess: I had the Continental, and I have to say the juice and coffee were delightful.
Were you late to work on Monday morning because of your Staycation?
Jess: I tend to get into work at 8am (don't ask why), so this time I treated myself to a bit of a lie-in and got there feeling perfectly refreshed at 9am.
Kam: Nope, I work in Old Street so it took me 5 minutes…
Who in your circle could really use a Staycation right now?
Kam: I think my sister would love it, she knows how to do fun the right way.
Jess: Me, again. I can't wait to book my next one and bring one of my girls, there's so many friends I feel like I've lost touch with and a luxury sleepover is by far the best way to reconnect. 💅
Which other Staycation experience would you like to try out, and why?
Kam: I'd say the Courthouse. It's in Shoreditch again, but that's perfect for me, and I really want to check out the huge private cinema. Beats watching another film sat on my couch.
Jess: I'm keen to try the Corinthia, maybe for my birthday, because nothing says happy birthday like a 5* floor spa in a palace. Or the Portobello, because it'd give me an excuse to go to West London and I'm really into quirky interior design and love the comfy vibe of a nice boutique hotel (although to be fair I've never actually been to one…)
---

« Pool and the Gang » at The Curtain
Courtyard room + Buffet breakfast + Heated outdoor pool + Gym access + Toiletries Bish Bash Bosh
---